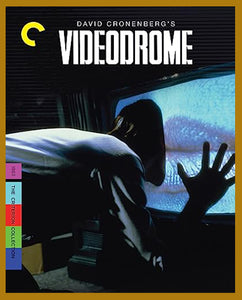 Eyesore Cinema
VIDEODROME - 4k + Bluray
Regular price
$50.00
Sale price
$54.95
Unit price
per
When Max Renn goes looking for edgy new material for his sleazy cable TV station, he stumbles across the pirate broadcast of a hyperviolent torture show called "Videodrome." His attempts to unearth the program's origins send him on a hallucinatory journey into a shadow world of right-wing conspiracies, sadomasochistic sex games, and bodily transformation. Starring James Woods and Deborah Harry, Videodrome is one of the most original and provocative works from writer-director David Cronenberg, and features groundbreaking makeup effects by Academy Award winner Rick Baker.

Special Features and Technical Specs:
4K RESTORATION OF THE UNRATED VERSION, approved by director David Cronenberg, with uncompressed monaural soundtrack
DOLBY VISION/HDR PRESENTATION OF THE FILM
Two audio commentaries, one featuring Cronenberg and director of photography Mark Irwin, the other actors James Woods and Deborah Harry
Camera (2000), a short film by Cronenberg
Forging the New Flesh, a short documentary by filmmaker Michael Lennick about the creation of Videodrome's video and prosthetic makeup effects
Effects Men, an audio interview with special makeup effects creator Rick Baker and video effects supervisor Lennick
Bootleg Video: the complete footage of Samurai Dreams and seven minutes of transmissions from "Videodrome," presented in their original, unedited form, with filmmaker commentary
Fear on Film, a roundtable discussion from 1982 with Cronenberg and filmmakers John Carpenter, John Landis, and Mick Garris
Original theatrical trailers and promotional featurette
Stills gallery featuring rare behind-the-scenes production photos and posters
English subtitles for the deaf and hard of hearing
PLUS: Essays by writers Carrie Rickey, Tim Lucas, and Gary Indiana
STREET DATE: OCTOBER 10.
---