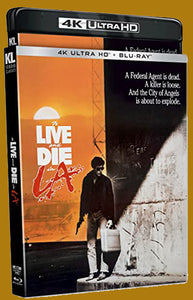 Eyesore Cinema
TO LIVE AND DIE IN L.A. - 4K/Bluray
Regular price
$34.95
$0.00
Unit price
per
RELEASE DATE: 2023-07-18  

A riveting action-thriller full of style and grit! A fearless Secret Service agent will stop at nothing to bring down the counterfeiter who killed his partner. Willem Dafoe, William Petersen, John Turturro, Dean Stockwell, William Friedkin, 1985.
William Petersen (Manhunter, TV's CSI) and Willem Dafoe (Platoon, Mississippi Burning) face off in a deadly game of cat and mouse in this riveting action-thriller directed by cinema legend William Friedkin (The French Connection, The Exorcist, Sorcerer). Full of style and grit, this raw tale of corruption and revenge boasts one of the most harrowing car chases ever caught on film and a shockingly explosive ending. Federal agent Richard Chance (Petersen) has a score to settle, and he's through playing by the rules. Whether that means blackmailing a beautiful parolee, disobeying direct orders or hurtling the wrong way down a crowded freeway, he vows to take down a murderous counterfeiter (Dafoe) by any means necessary. But as the stakes grow higher, will Chance's dark obsession with vengeance destroy him? The ultimate '80s neo-noir, To Live and Die in L.A. features John Pankow, Debra Feuer, John Turturro, Darlanne Fluegel and Dean Stockwell, with cinematography by Robby Müller (Paris, Texas) that captures the City of Angels from the trendy elegance of Rodeo Drive to the seedy, neon glow of Hollywood.
Special Features:
• Brand New HD Master – From a 4K Scan of the Original Camera Negative
• Audio Commentary by Director William Friedkin
• TAKING A CHANCE: Interview with Actor William Petersen (20:41)
• RENAISSANCE WOMAN IN L.A.: Interview with Actress Debra Feuer (14:55)
• DOCTOR FOR A DAY: Interview with Actor Dwier Brown (8:52)
• SO IN PHASE – SCORING TO LIVE AND DIE IN L.A.: Interview with Composers Wang Chung (12:43)
• WRONG WAY – THE STUNTS OF TO LIVE AND DIE IN L.A.: Interview with Stunt Coordinator Buddy Joe Hooker (35:38)
• COUNTERFEIT WORLD – THE MAKING OF TO LIVE AND DIE IN L.A.: Documentary (29:49)
• Deleted Scene and Alternate Ending with Introductions (13:06)
• Radio Spot
• Theatrical Trailer
• 5.1 Surround and 2.0 Lossless Audio
• Dual-Layered BD50 Disc
• Optional English Subtitles
---