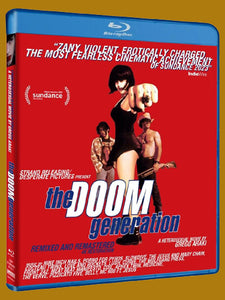 Eyesore Cinema
THE DOOM GENERATION - Bluray
Regular price
$30.00
Sale price
$34.95
Unit price
per
Starring Rose McGowan, James Duval, Johnathon Schaech, Dustin Nguyen, and Margaret Cho. The release is scheduled to arrive on the market on September 26.

Restored in 4K with scenes edited for it's theatrical release in 1995, this version reflects the director's cut, intended by Araki. The film has been completely retimed and reedited for today's technological standards. The sound is remastered to compliment today's new audio standards in a new 5.1 mix.

"Headed home after a wild night at a Los Angeles club, young lovers Jordan White (James Duval) and Amy Blue (Rose McGowan) pick up a dangerously handsome drifter named Xavier Red (Johnathon Schaech). Jordan doesn't see a problem with offering Xavier a quick ride, but his acid-tongued girlfriend thinks he's a creep. When Xavier inadvertently kills a convenience store clerk, they are forced to go on the run, traversing a bizarre and ultra-violent America. Somehow, every random thug, drive-thru operator, and neo-Nazi they encounter seem to recognize Amy as a past fling or alter ego, adding to the already explosive sexual tension brimming among the renegade trio."
---