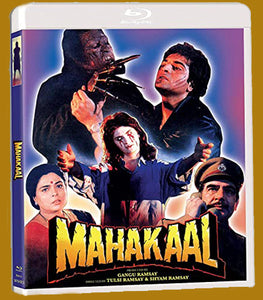 Eyesore Cinema
MAHAKAAL - Bluray
Regular price
$39.00
Sale price
$44.95
Unit price
per
From the kings of Bollywood horror, the Ramsay Brothers, the Indian version of Nightmare on Elm Street with the Indian version Jim Carey, Johnny Lever! 1994.
After the brutal murder of her kid sister, Anita begins to have horrible nightmares where a ghastly monster with an iron glove torments her. Once awake, she finds that the injuries suffered in her dreams have manifested into the physical world. Although her family and friends dismiss her warnings, it's not long before people around her are picked off one by one by this hideously disfigured being. Can anyone or anything bring an end to the carnage?
Massacre Video and the Ramsay House of Horror, proudly present the 1993 Bollywood horror classic, MAHAKAAL, from a brand new 2K scan from the original 35mm camera negatives and presented completely uncut and uncensored for your viewing pleasure!
Special Features: 
Brand new 2k scan from the original 35mm camera negatives.
Uncompressed PCM Audio.
English Subtitles.
Bollywood Crypt interview with Deepak Ramsay.
Extensive Stills Gallery.
Trailers for other Massacre Video releases.
---